Watch Soul Surfer
---
"When you come back from a loss, beat the odds, and never say never, you find a champion."
Soul Surfer is an inspiring, true story, about 13 year old surfer, Bethany Hamilton. Bethany, her parents and brothers live in Kauai, Hawaii. Growing up around water, her entire family was avid surfers, but Bethany and her best friend Alana, became competitive in the sport. They showed the most promise for a professional career. Bethany developed a friendship with her church youth leader, in whom she confided her desire to become a professional surfer. Due to their rank in the sport, Bethany and Alana were given sponsorships during the surfing circuit.
In 2003, while training in the oceans of Kauai, a tiger shark suddenly appears from the deep and viciously attacks Bethany biting her surfboard and subsequently biting off her left arm near the shoulder. Rushing to the emergency room, Bethany nearly dies from the trauma, and the loss of 60% of her blood. News of this event spreads throughout the world, and to Bethany's surprise, becomes an instant inspirational story, about the sheer will it takes to recover from such a catastrophic event. Reporters flock to the tiny island converging on her home and neighborhood. News stations featured her story all across the country. The only thing on Bethany's mind was getting back to surfing.
During her recovery, Bethany struggles to adjust to living with only one arm, and the challenges she will face as a result. A television show donated a prosthetic arm to help with her mobility. However, she saw it as more of a hindrance than a help to the success of her recovery. Because it was not weight bearing, it was impossible to use while surfing. After a time of recuperation, Bethany struggles to adjust to surfing with one limb. Her father helps by installing a handle on the top of her surfboard, making it easier to stay on while paddling out to the waves. It proves be successful. She then realizes she can overcome her circumstances and continue to compete in the sport that she loves.
Overcoming the odds of returning as a champion, Bethany summons the courage, and perseveres with sheer will and determination to become a champion once again. Her comeback becomes an inspiration to others who have faced adversity proving that her loss can to be a victory for others. Bethany proves that anything is possible if you put your mind to it.
The 2011 film stars Dennis Quaid, Helen Hunt, Anna Sophia Robb, Kevin Sorbo, and Carrie Underwood.
|
2011
|
1 hr 46 min
|

/

10
Cast

Studio

Director

Sean McNamara

Language

English
Soul Surfer News
Weekend Box Office: 'Rio' Soars Above Murderous 'Scream 4'
April 18, 2011 @ 7:22 am PST
|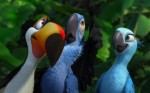 One little bird, one big weekend: "Rio" took the box office by storm over the last few days, grossing about $40 million after already earning $169 million overseas over the last week.
The movie, which features the voices of Anne Hathaway and "The Social Network" star Jesse Eisenberg, was expected to take the top spot but exceeded those expectations. The opening helped lift domestic box office grosses 12% over last year's grosses at this time.
Read More

Teenage Shark Attack Victim Inspires With New Movie
April 01, 2011 @ 6:49 am PST
|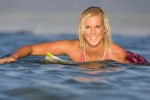 Eight years after losing her arm in a shark attack, Bethany Hamilton is sharing her story in an inspiring movie "Soul Surfer."
It's not surprising to see Hamilton, a tall and gorgeous blond, grace the red carpet with sheer poise and bubbling energy.
Just months after she was attacked in 2003, she went back into the water to become a surfing champion.
Hamilton was just 13 when the attack occurred.
Read More

What's In Theaters This Weekend: April 8th Movie Debuts (Watch Trailers for 'Arthur,' 'Hanna,' 'Born To Be Wild,' 'Your Highness' and 'Soul Surfer')
April 08, 2011 @ 10:24 am PST
|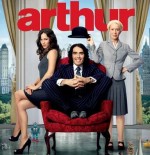 It's a big weekend at the box office with five major motion pictures opening in wide release. If you are planning a trip to the theater, here's what's on tap:
"Arthur": The remake of a 1981 comedy, Arthur follows Russell Brand as an irresponsible playboy who could lose his inheritance by marrying his true love rather than agreeing to an arranged marriage. Jennifer Garner, Greta Gerwig, Helen Mirren, and Nick Nolte also star.
Read More


Watch Soul Surfer Trailer

Soul Surfer Official Trailer
|
2:20

Watch Soul Surfer Online - Watch online anytime anywhere: Stream, Buy, Rent
Soul Surfer is currently available to watch and stream, buy, rent on demand at Amazon, Vudu, Google Play, FandangoNow, iTunes, YouTube VOD online.